What is I-Beam?
I-beam is a structural steel construction industry product with multiple uses. I-beam is also known as a universal beam (UB). It is a type of steel beam. Other types of steel beams are U-beam and H-beam and they differ from each other in terms of shape. I-beam has the shape of the letter I, U-beam has the shape of the letter U, and H-beam has the shape of the letter H.
I-beam is made of structural steel and is often used in construction and civil engineering.
What is I-Beam Used for?
I-beam is a very useful steel product. Manufacturers use I-Beam worldwide as a unidirectional load bearer. The most popular uses of this product are in building structures and they are often used in structural steel construction industries. More uses are:
I-Beams play a key role as support members in structures.
They have to ability to withstand various kinds of loads.
They are most frequently used to form beams and columns in a number of dimensions.
They are used in the frames of buildings because they ensure a strong and supportive structure.
It is used in custom welding processes and metal fabrication.
Using I-beams saves time and money because their strength reduces the need of a large number of support structures.
I-beams are most efficient for unidirectional bending parallel to the web.
They can withstand different types of load and stresses without buckling.
What is the typical I-Beam Strength?
I-beam is able to support much weight because:
I-beam is a more efficient cross-section for a beam.
It is more stiff.
It is the only most efficient beam in unidirectional bending: up and down looking at the profile of the letter I.
I-beam bears the load of weight put on its flange because of its shape.
It bends under high stress instead of buckling. This structural quality makes it stronger than the others.
Proper care and installation of I-beam needs to be taken into consideration in order to avoid any unwanted effects.
How do you Manufacture I-Beam?
In factories, I-beam is made by a hot-rolled molding method. In this method, pliable metal is forced through large rollers to flatten and mold it into the I shape. Hot rolled I-beams are made from metal that has been heated over 1000 degrees, to make it more malleable, and then rolled. Steel beam coping machines are used to make I-beams.
Which Countries Manufacture I-Beam in Bulk?
The main producers of I-beam are:
India
Japan
South Korea
United States
Consumption of I-beam has increased dramatically across the world, especially in developing countries.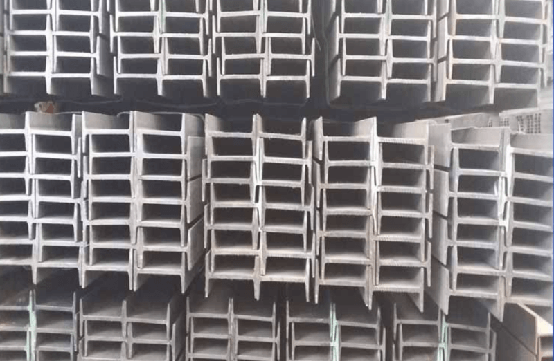 How do you Transport I-Beam?
I-beams are typically exported by sea but can be transported in bundles by truck to job sites. A thorough checking process occurs before the steel is ready for export. In this process, a few things must be reviewed during packing and labelling. This may include quantity testing, quality testing, and weight etc.
I-beam is shipped in bundles of 1 ton.
Where to Buy I-Beam?
You may be able to find I-beam in small quantities in your area. But if you want to buy large quantities of I-beam, it is preferable to import directly from the manufacturers. They can issue certifications and provide cost savings which is better than buying the steel in small quantities locally or from a distributor.
If you require bulk quantities of this steel, you can buy I-beam on our website.
Here at Camasteel we have I-beam for sale. We export worldwide, so you can contact us for a FREE quotation today via email [email protected] or send a message on WhatsApp for a fast response +86-131-2037-9271.